Order and payment procedure
for the services of Myelophone
1. How to place an order?
1.1. Select the desired services our creative and web Studio Mielofon. All services are provided in accordance with the public offer posted on the page https://myelophone.com/en/oferta.
1.2. Ask Your questions (including regarding the transfer and refund of funds) or send a request to us in any convenient way (online chat, contact us form, email studio@myelpoh.one) or fill out online brief.
1.3. Our employee will contact You in a convenient way to agree on all the details, sign the terms of reference and issue an invoice for payment or prepayment.
2. How to pay for an order?
2.1. You can pay for our creative web studio services in the following ways:
2.1.1. Bank transfer in BYR, USD, EUR, RUB to our Bank account OOO Myelophone (section 3).
2.1.1.1. Our employee sends you an invoice for payment or prepayment in a convenient way.
2.1.2. By bank card in Internet.
2.1.2.1. To do this, You need:
2.1.2.1.1. Choose the type of website or type of service You need and order in any way convenient for you: call: +375 (29) 858-79-40 or +1 332-330-10-19; or use the Bitrix24 form on the website to place an order; or write an e-mail: studio@myeloph.one.
2.1.2.1.2. Within 30 minutes, we will send a link to pay for the service to Your specified e-mail or a convenient messenger. Clicking on the link will take you to a special secure payment page of the processing system bePaid.
2.1.2.1.3. The order number and the payment amount will be indicated on the payment page. To make a payment, you need to enter your card details and confirm the payment by clicking the "Pay" button.
2.1.2.1.4. If Your card supports 3-D Secure technology, the system will ask You to go through the standard one-minute verification procedure for the cardholder on the page of Your bank (the bank that issued Your card).
2.1.2.1.5. After payment, our manager will contact You to clarify the details of providing the service in any way convenient to You.
2.1.2.1.6. Please note that after the payment is made, a payment confirmation will be sent to the email address You specified. We ask You to save the payment data.
2.1.2.1.7. We accept payments by the following bank cards: Visa, Visa Electron, MasterCard, Maestro, Belkart.
2.1.2.1.8. Bank card payments are made through the electronic payment system bePaid. The payment page of the bePaid system meets all data transfer security requirements (PCI DSS Level 1). All confidential data is stored in encrypted form and is as resistant to hacking as possible. Access to authorization pages is carried out using a protocol that provides secure data transmission on the Internet (SSL/TLS).
2.1.2.1.9. The refund is made to the card from which the payment was made earlier. The period of receipt of funds to the card is from 1 to 30 days from the date of the refund by the Seller. The refund conditions are described on the page https://myelophone.com/en/oferta.
2.1.2.1.10. Example of a receipt confirming the fact of payment for the services: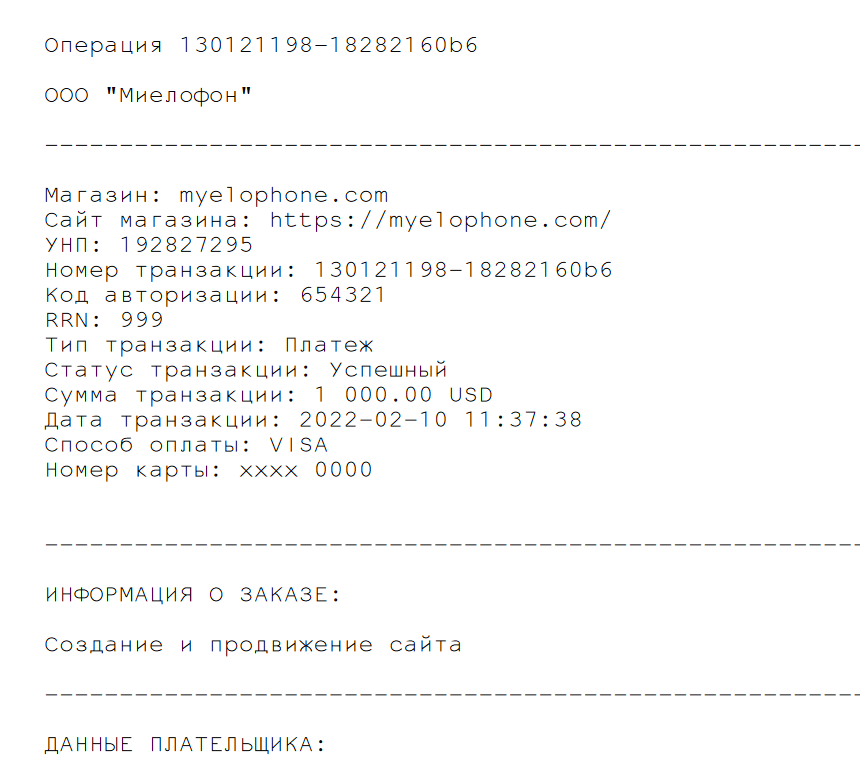 2.1.3. Only in the United States and only for companies that are residents of the United States-by Bank transfer ACH in USD to bank account (section 3) OOO Myelophone in Bank in USA.
2.1.3.1. Our employee sends you an invoice for payment or prepayment in a convenient way.
2.1.3.2. Only ACH (Automatic Clearing House) transfers are accepted, and swift transfers are not supported. Transfers must be made from the company's account, transfers from individuals will be automatically rejected.
2.1.4. Via eCheck - our employee will send you a payment request via Payoneer.
2.1.4.1. Our employee sends you an invoice for payment or prepayment in a convenient way.
3. Requisites of creative web studio Myelophone:
ОOO Myelophone
TIN (taxpayer identification number) 192827295
registered by Minsk city executive 26 May 2020 г.
220073, Republic of Belarus, Minsk
Olschevskogo str., 24, room 7, cabinet 16-71
Working hours: mon-sun: 09:00 - 18:00
bank account BYN BY05UNBS30120119100000008933
bank account USD BY38UNBS30120119100100008840
bank account EUR BY95UNBS30120119100100008978
bank account RUB BY22UNBS30120119100100008643
in ZAO "BSB Bank" Department №8, BIC UNBSBY2X
220055, Republic of Belarus, Minsk, Matusevicha str., 72
for USA only - ACH local bank transfer requisites:
Bank Name: First Century Bank
BankAddress: 525 Federal Street Bluefield, WV–Bluefield, USA
Routing Number (АВА): 061120084
Account number: 4029212685313
Beneficiary's Company Name: OOO Myelophone
Always update information about actual correspondent accounts on our bank website
List of correspondent accounts of Nostro accounts from 21.03.2022 pdf, 0.68 MB
Example for filling out a payment order in US Dollars (USD)
Example for filling out a payment order in EURO (EUR)
Example for filling out a payment order in Russian Roubles (RUB)